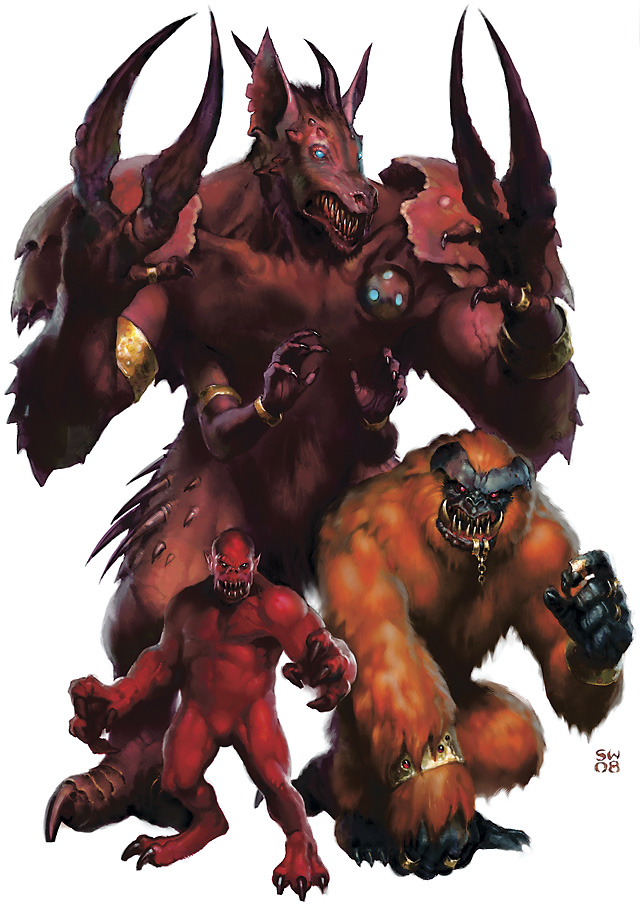 Well here is another stumper, I'm wondering if this list was created with D&D 3 in mind? I did however notice this on the OSR Google + "Martin Thomas posted the following...
For those "not-in-the-know" an "outsider" is anything from the "outer planes" - so stuff like elementals, solars, planetars, devils, demons, and my "favorite"...
To quote Joshua De Santo
http://geniuslocigames.blogspot.ca/2013/09/30-day-challenge-day-18-them.html
"
As the days wear on and the challenge grows I am starting to see that I am woefully under-prepared for some of the questions"
I'm having a lot of difficulty as well with some of these questions. I haven't played a whole lot of Space / Planescape RPG stuff, so this was a bit of a difficult one. I've decided to go with the Glabrezu, and not because I've ever had one in any of my campaigns, but because I always wanted to. There is something about flipping thru the AD&D 2nd Edition monster manual, that just makes you go
"Gawd damn, we gotta roll up some HIGH level characters, cuz I want to throw this and that at you guys"
. Same goes for the Tarrasque (which I'm sure will appear on day 22). Here is some info on the Glabrezu from the
Forgotten Realms wiki
.
Glabrezu
are one of the most powerful types of
demonic
tanar'ri
. A glabrezu tempts its victims into ruin by luring them with power or wealth. Their imposing stature radiates authority and control, which they use to sway mortals into accepting their gifts...for a price. They use lies and deception to destroy the lives of all whom these demons meet.